Champs Elysees, the Eiffel Tower and aching feet.
Champs Elysees is a delicious walk away from Neuilly. At least for two eager Paris first timers. Genevieve, our hostess, was a little amused, when we announced that we intend to walk to the Arc, over the lovely croissant and coffee breakfast she put together for us. "You can take the metro, you know?"
Of course we could, but this was our first morning in Paris and we were so ready for the sights and more importantly, the feeling of being in Paris. The air was nice and crisp - just right for walking. In twenty minutes we were furiously clicking pictures of the Arc De Triomphe. I stepped over a subway vent and my dress did a half Monroe. You have to remember this is my first ever half Monroe moment. And I'm rather excitable. So yeah, I got a whole lot of thrills and kicks from my rowdy skirt.
Champs Elysees is all glamour and gorgeousness with its beautiful avenues, beautiful shops and of course, beautiful people. But like all the arcs across the world, the Arc De Triomphe is an edifice dedicated to fallen soldiers. Champs Elysees is french for Elysian Fields, heaven for heroes in Greek Mythology. Where the boulevards of Champs Elysees currently stand were once fields and kitchen gardens, which evolved into its current and vibrant form. Until 1709 it was called "Grand Cours". But as far as I was concerned it could have been called THE MOST GORGEOUS PLACE IN THE THE WORLD or at least THE PLACE WITH THE MOST GORGEOUS VIEW IN THE WORLD. The Arc de Triomphe is like a giant intricately carved, ivory chess piece that fell out the great box in sky and took root.
It stands tall in the middle of the circle - a veritable white heart. Beating for a countless hearts that long ceased to beat on countless battlefields. Don't try crossing the street to it - take the underpass. Climb all the way to the top and the most beautiful city in the world pans out in from of you, lego-size. We were lucky - Paris made time for us and hosted us. There were a handful of tourists atop the Arc De Triomphe. No long lines, no elbows snarling and snapping at each other. Just people breathing in and gasping at the beauty of Paris. People smiling and offering to take pictures for this couple struggling with the business of taking a selfie with the Eiffel Tower in the background. The earlier you get there, the less tourists you'll have to deal with.
All of Paris awaited us after we'd had our fill of the Arc. I thought that maybe we should head for the Notre Dame. Google maps was acting a little sketchy - so we did get confused. But here's the thing about paris. When you're walking, there's no such thing as "Lost" - everything is more like "finding". You find more corners to take your breath away; you find cafes and street artists, you find streets that make you stop in your tracks and take a picture while mentally making resolutions to not stop at every street and take pictures. In all this, finding the Notre Dame was turning out to be a challenge.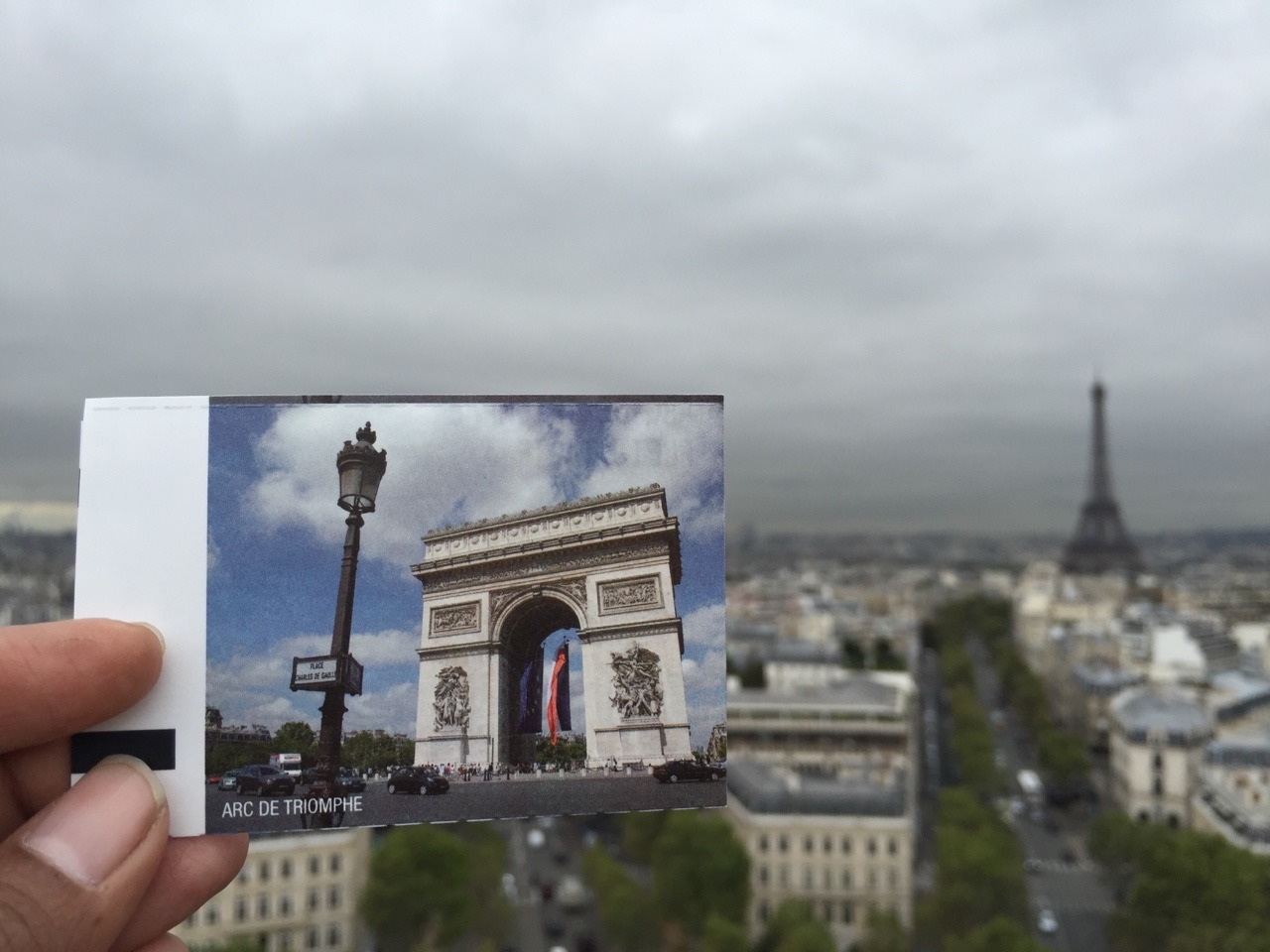 Hours: April to September - 10 am to 11.00 pm
October to March - 10 am to 10.30 pm
Ticket: Adults : 8 €
Students (18 to 25 years) : 5 €
Groups : 6,20 €
Free for children and students up to Age 17
Best time to go: Right at opening time or stay for the sunset.
Holidays: January 1, May 1, May 8 (morning) July 14 (morning), November 11 (morning) and December 25
After gaping at a street map for a bit, we crossed a street. And just like that the Eiffel Tower or the Tour de Eiffel casually came into view. Sneaked up on us actually. Did original plans of cathedral visiting stand a chance? Not a chance. And that's how we were introduced to the Seine. This sigh of a river. This thick band of sustenance and sewage. This artery of poetry. Walking by the Seine is, by far one of the most romantic things I've ever experienced. I felt like I was walking on air just by the virtue of the trees, and the people, the street artists and yes, the Eiffel Tower hovering in the distance like a promise.
The Eiffel Tower from up close was, let's say, impressive enough. But not enough to keep us from thinking "But first, lunch!". Travelogues need to be written almost immdiately after the trip. If not, there's always the danger of becoming too vague. Like this one's about to get. We crossed the street and went into the general direction of Rue Saint Dominique, which is all delicious smells and inviting shop windows. And the most inviting of them all - Comptoir Richards! Open those doors and your heart begins to sing a joyous song. The whole store rings of zen and smells of coffee. Tall containers that sang ecstatic choruses of coffee blends, glass jars with mixes redolent of summer fields and summer gardens and orchards and misty hillsides and good mornings. Ah, coffee! The guys out there were lovely and very helpful. Guided us through our coffee shopping, which in time would turn out to be some of the most delicious mornings. As tourists, there's always a converter whirring inside our heads - albeit a really slow one, in my case - converting euros into rupee. And it never failed all through our trip - good coffee is so much cheaper in Europe!!! So much for being the poor country!

We gallivanted around that delectable neighbourhood savouring its Parisian-ness for a little bit and then went back to the Eiffel Tower. This time, on our second rendezvous, the Tour de Eiffel decided to turn on the charm. Warm September sun dressed up the Eiffel in the tone of happy memories and golden dreams.
We spent the afternoon watching Paris go on about its afternoon. The tourists walking around and taking pictures, the families with their little ones in tow, on their cherub-sized scooters, the "cause hawkers" with their scams. They give you such looks of condescension if you don't believe them and cough up. But the surveillance shooed her away before things got uncomfortable. We'd read enough on how you could get tricked into things if you weren't careful and if you didn't sling your bag across your body.
Honestly, I didn't expect the Eiffel Tower to sweep me off my exhausted feet like it did. It is after all, the clichest a cliché can get. Sahit and I sat like two smitten kids staring at the tower. Our feet, of course, were grateful that we were sitting. They weren't quite prepared for the extra summer hours and the extra burst of touristy energy and the 16 kilometres we walked. They threw up a fuss and had to be taken back to the apartment by what would have been "dusk". They cared nary a bit for the opalescent setting sun. Or the beauty of Pont de Alexandre, which is Paris' prettiest bridge - a veritable filigreed crown on the Seine, if I may. They just wanted out of the shoes. We took the metro back to Neuilly and felt so proud of ourselves for being so at home with the Metro. Meanwhile, the Eiffel and I had made another date.